The Jasper started on Kickstarter on September 10, 2018. 
But we've been working on it a lot longer than that. Would you believe it started back in 
May 2017
?
Books, board games, tables, any product you can think of. If you ask the author/designer/producer, they are never finished. They are just released. You get to a point where you are happy with the product and you start selling it to people. But your mind never stops. You are always thinking of how to make it better. Then you start getting feedback from your early customers. And it fans your inner creative flame.
You could say The Jasper started in May 2017. I went to Heavy Con -- a convention for people who like to play heavy board games -- and had a great conversation with Matt in this weird (but great) little Mexican sandwich shop in Denver. Matt's a woodworker turned full-time father. I'm the owner of a table company that has trouble turning off his "work brain". So we had a lot to talk about.
I'd met Matt at Heavy Con the year before when he looked at the very first Duchess prototype and gave me suggestions. The Duchess -- our first (the world's first) budget board game table -- was on Kickstarter that year, and by May 2017 we were in the midst of sending the tables to backers. After a while, the conversation turned to what changes I would make to the table if we were to do a "version 2". And with that, Matt was hired.
I shipped a Duchess to his house, and a big bulleted list of questions and ideas.  He started cutting and prototyping.
Matt didn't design the The Jasper. He designed details and options. Like cupholder mounting options. He answered questions. Like: How can we make a topper that looks good but doesn't have a lip that is vulnerable to shipping damage? What kind of support boards do we need if we are going to use a 3-piece base board instead of a 2-piece base board?
The initial plan was to take the design changes to the factory in China and make "Duchess 2.0". But as I dug deeper, there were other things I wanted to improve. These things would probably be considered "quality control". But I wanted to improve more than just 
quality control
. I wanted to improve 
attention to quality
. That is, I didn't want to make a complex system to catch the litany of things that could go wrong when building your table. I wanted the tables to be built in an environment where potential problems would be proactively diagnosed and real solutions would be put it to place to prevent them from happening instead of just catching the problem when it comes up again.
And I realized I knew a place just like that. The shop where we make our custom, built-to-order board game tables in southern Missouri. Was this even a possibility? Is there anyway we could make a table in the USA and sell it at this price point? If the price was possible, did we have the capacity?
I had my first discussions with Russ and Kyle about this table one year ago. On October 10, 2017. Russ and Kyle run the shop where BoardGameTables.com's custom tables are made. They can make anything. But could they make it in a scalable enough fashion to hit this price?
This set off a long period of research. At this point we weren't moving quickly yet. There were still Duchesses to ship to customers. We just wanted to put things in motion so that when it came time to start moving faster we would be ready. We started estimating labor costs, getting quotes for wood, boxes, etc. It seemed like it might be possible.
In February, 2018, it was time to build the first prototype. I sat down with the woodworkers, I had my list of ideas, we had drawings from Matt, and they had some good suggestions and some practical concerns. They finished the first prototype just in time for a big gaming weekend. So I put it through its paces.
The table was good, but not good enough. It had many of the same issues that made The Duchess difficult to assemble, the playing surface performed well enough but didn't look good, it had two exposed bolts, there were gaps in the corners where the playing surface couldn't fit right, and it didn't have cup holders yet.
We would need to build more prototypes to address these issues. Plus, the prototype topper we had worked great, but it was going to be way too expensive to make. At the same time, some real serious questions about cost started to creep up. We almost decided it wasn't worth moving forward.
But determination took over. I found a source of wood that would bring the raw material cost down. We were able to find some improvements in the manufacturing process that significantly reduced labor. Conversations with the new wood source led to some changes to the topper design that make it more economical. And the woodworkers just couldn't stop tinkering. They made a new prototype that fixed most of the design concerns from prototype #1. We tested prototype #2 at 
Age of Steam Con
 at the end of March, 2018. (Yes, I run the convention. Yes, you should come next year. Yes, it is just for Age of Steam.)
Over the summer we made prototype #3. It used wood from our new supplier. It still needed just a couple of design tweaks and we thought the stain color we choose for it was too light. But these were easy changes. Now we were confident we could pull this off. We started talking about possible dates to launch the Kickstarter.
A month later, I got really excited about prototype #4. It fixed the 2 minor problems with prototype #3 and we nailed the stain color this time. Even better, it was made from wood from a different supplier that was even cheaper. Even worse, that wood sucked. We ended up using this table as the demo at Gen Con. So it wasn't that bad. I won't get into the nitty gritty details. You'd have to really look closer to be able to see the problems. But we went back to the previous (better) supplier.
The devil really is in the details. And we are determined to get them right. The little stuff matters. The small things are important.
We had to give the table a name. It started as Duchess 2.0, but after these months of work it seemed more like a new beginning than just a sequel. For a while it was The Duke, but that was still too similar. And then we landed on The Jasper. The woodworkers think we named it after the town where they make the tables. Katy (if you've ever emailed us for pretty much any reason, then you have spoken with Katy) thinks we named it after her dog. I hope neither of them find out that I named it after the rock.
That isn't true. It is named after the town. Or maybe the dog. I can't remember.
Shipping damage had been a big problem with The Duchess. For The Jasper, we actually had a box design company come to the shop and take the Jasper prototype back with them to their office. They kept it for a week so that their box designers could build the perfect box.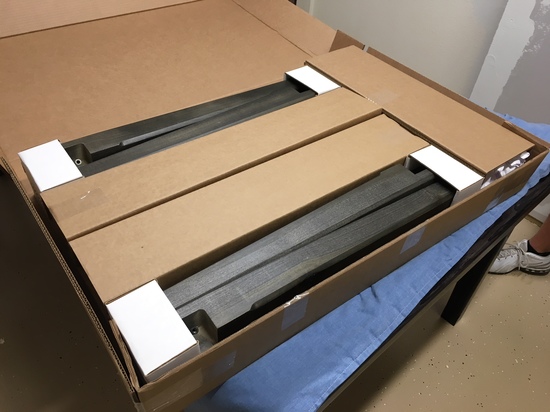 One of the challenges with board game tables is the recessed playing area takes up a lot of space. We don't have as much room under the table to build the support structure as you would on a normal table. So, we ordered custom metal brackets for the leg attachments to make sure they are the perfect size for the table. We ordered special drill presses that can drill three holes in one shot to make sure the holes to attach these leg brackets are always lined up perfectly.
We added extra screws in the ends of the arm rest (completely covered after the legs are installed) just to make assembly easier. There are two different (but similar) size screws that ship with the table. We made sure they are different colors so that it is easy to tell them apart.
We talked at great length about the amount of knock down on the corners of the boards to make the home-assembled joints look right. And the depth of the dados that give the inside of the arm rest a little style. And getting the slot that holds the play surface just perfect so that it stays in place.
And now we are at the end of the story, which is really the beginning. The Kickstarter will end 15 hours after I send this email. We will ship out the last 8 test shipments. And then we will start to ramp up production of our pilot run. That pilot run is used to further define and iron out our processes so that in December we can start producing tables at full speed.
That is a picture of the very first Jasper that wasn't a prototype. Jasper #1. I hope we kept it. But I have a feeling it was shipped out in one of the early test shipments.
I hope you decide to join the story. I hope you decide to put one of these table in your home.
Jump on the Kickstarter before it closes. It is the way to make sure you get your table as soon as possible. And it is the only way to guarantee this price.
But look, this isn't one of those high pressure sales things. We are trying to build something that lasts. I would love for you to be in at the beginning, but we'll be here whenever you need a table. If that is a custom built 4' x 8' table with 8 drawers and LED lights, or a Jasper. Just remember us when it's time for you to get a new table.
Or maybe you're never going to want a table and you're just here for the witty and thoughtful articles. If that's the case, I hope you enjoyed this one.
Happy gaming,
Chad
P. S. That's my daughter.